Positioning to alternatives
Our solution is unique because it combines the benefits of low costs, easy installation and includes intelligence to detect production stops.
Additionally, EyeAtProduction will become more intelligent in future with your feedback and input.
We want to be transparent and explain you what are the alternatives to EyeAtProduction. So you find out what suits best to you.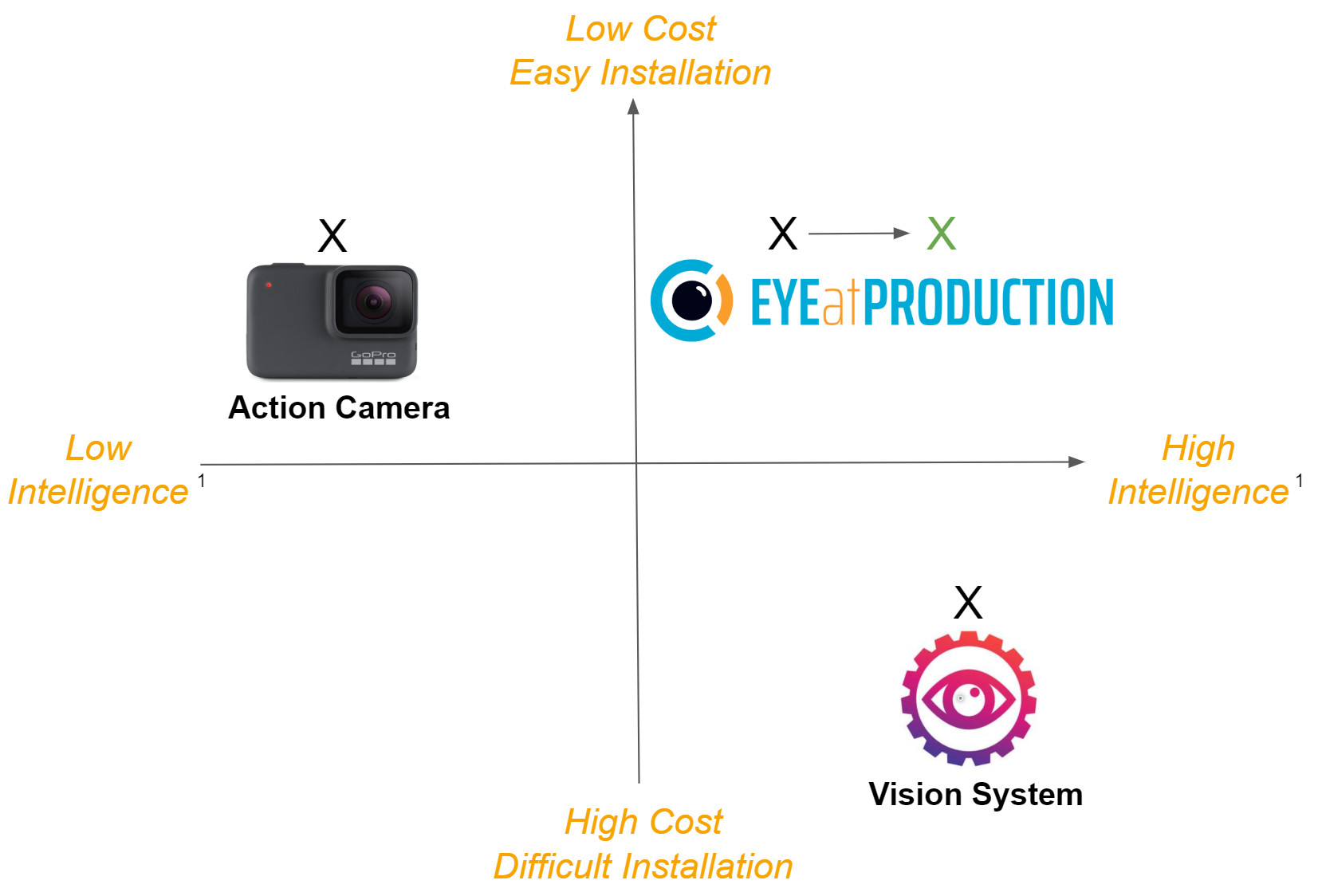 1 We define intelligence as the ability to analyse complex conditions and generate accurate information automatically.
Action Camera
Recording of long production videos
Simple installation without Integration
EyeAtProduction
Automatic detection of Stops
Flexible application without Integration
Vision System
Precise Quality Check Tool

Customisation and Integration is required
Directly ready to use after purchase
Ready to use within minutes without technician
Time intensive project requiring on-site installation
Medium One-time price of hardware only
Cost-effective solutions via subscription
Resource intensive project requiring high investment
No Quality Check of products
Automatic quality check of products
No testing possible, costs upfront
Free testing and no upfront costs
Sunk costs and no possibility to test
No training and inconvenient search for relevant sections in video
User friendly without training
Workshops and training needed
Basic and manual monitoring of production
Smart & Fast solution to find production stops
Individual solution to monitor most critical production step
Our Recommendations to you:
If you have seldom cases where you want to record a video of your production this is the most suitable solution
You regularly have unplanned and repeating production stops and want to find out fast and easy what caused them, EyeAtProduction is perfect for you.
You want to have complex quality check of your most important production step, you want to invest in a customised solution.